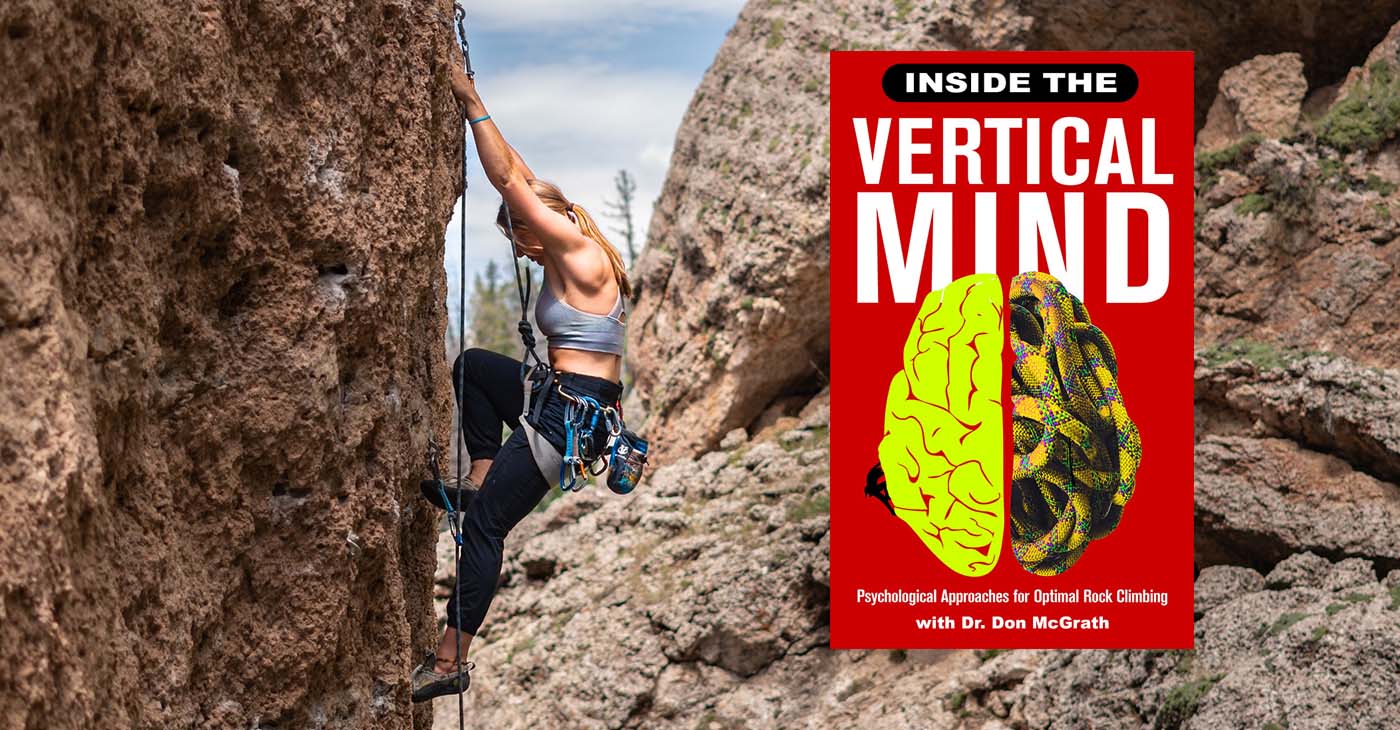 INSIDE THE VERTICAL MIND SHOW
A new Psychology of Climbing outdoor tv show in development with Dr. Don McGrath.
EXPLORING THE MINDSET OF TOP ROCK CLIMBERS
Join host Dr. Don McGrath, co-author of the book Vertical Mind, along with a cast of top rock climber co-hosts as together, with the backdrop of breathtaking climbing destinations, they explore many of the psychological aspects of rock climbing.
Each episode delves deeply into a different mental aspect of climbing to uncover useful strategies, tactics, and life-lessons that can be applied by climbers and non-climbers alike.
Welcome to Inside The Vertical Mind
Preview video above. Click to view.
Inside the Vertical Mind Episodes
Note: The following are sample photos and brief summaries. Please click on Learn More to read more about each episode.

Healing through climbing 
Our first episode featuring Kevin Bradford as our first Guest Host Climber along with guest climbers Maddy and Matt who share both their climbing experience as well as their healing journeys through climbing.

Bouldering
Bouldering involves climbing short, but difficult climbs without a rope. It requires extreme levels of effort for short periods of time, and every fall from the climb has the climber impacting the ground…

Sport Climbing
Sport climbing involves executing sustained and difficult climbing while using a rope and bolts in the rock to avoid serious injury or death…

Traditional Climbing
Traditional (or Trad) climbing has climbers placing specially designed protection gear in cracks and fissures in the rock in place of the bolts used by sport climbers.

After The Fall:
In this episode, Don and a co-host who has suffered and recovered from a nearly life-ending accident share psychological insights and lessons they have received through set-backs and challenges resulting from injuries and accidents.

Fear of Falling

Falling is a part of being a serious climber. We all have a fear of falling to some degree or another. In this episode, Don climbs with Vertical Mind Co-author and psychology professor Jeff Elison…

Fear of Failure
As humans, we are social creatures and strive to be accepted in our social circles. We fear rejection, which can keep us from doing things where we may fail…

Flow
Flow is a state of effortless high-performance and many climbers experience this in their best performances. Flow is magical when it happens and we strive to create it as often as possible.

Aging Into Climbing
As we age, climbing become more difficult due to a number of factors. We tend to get busy with work, relationships, and many other aspects of living a full life.
Inside the Vertical Mind Sponsors

Vertical Mind Quick Contact Form